We can all agree that a sound sleep at night is crucial, but it's becoming ever easier to let it slip down our list of priorities.
In our over-teched world, many of us are taking technology to our bedrooms, and this has allowed technology to disturb us even during our sleeping hours.
Wondering how to make your bedroom subtler? Start by getting yourself a desktop alarm clock.
AC01, a perfect alternative to the "mobile phone-as-alarm clock, is a bewitchingly simple clock that fully realizes the form follows function aesthetically.
Now, if you are thinking of replacing your desktop alarm clock, let's see why you should replace it with an AC01 alarm clock.
Incredibly Stylish
An elegant addition to your bedroom, the AC01 features an exceedingly modern design classic.
Sporting a solid elegance, the AC01 is one of the cute alarms clocks that will allow you to start your day in style while complementing your existing space.
What we like most about the elegance of this timepiece lies in its versatility as its design is not only ideal for your bedside but also for your favorite desk.
Solid Elegance
Alongside the clean, minimalist design, the AC01 is constructed from top-quality components, mounted with an outer housing of solid aluminum and faced with scratch-resistant glass.
Unlike your common alarm clock, the AC01 will take a beating, and will not break from accidental knocks.
Sturdy and durable, you will no longer have to worry about the structural integrity of this piece and will be quite handy in the presence of those with the playful kids or pets.
Easy to Use
Sporting a well-thought ergonomic design, the AC01 comes with simple and intuitive control. Operating the AC01 is easy as it gets and is not a hassle even for new users.
With a clearly displayed status on the dial, activating or deactivating of the AC01 is easy with a simple gesture.
A major highlight of the design is the effective illumination provided by this timepiece. Featuring a classic glow-in-the-dark hand and dial plus an LED light ring, it's easy to find and control the AC01 in the dark.
According to Punkt-manufacturers of AC01, if you can find the clock, you can find the switch.
Snoozer-Friendly
AC01 simplicity is further manifested in the gravity of its purpose and functionality.
Using the snooze function couldn't be easier: the whole back of the AC01is a switch, which is quite good if you are not yet ready to open your eyes.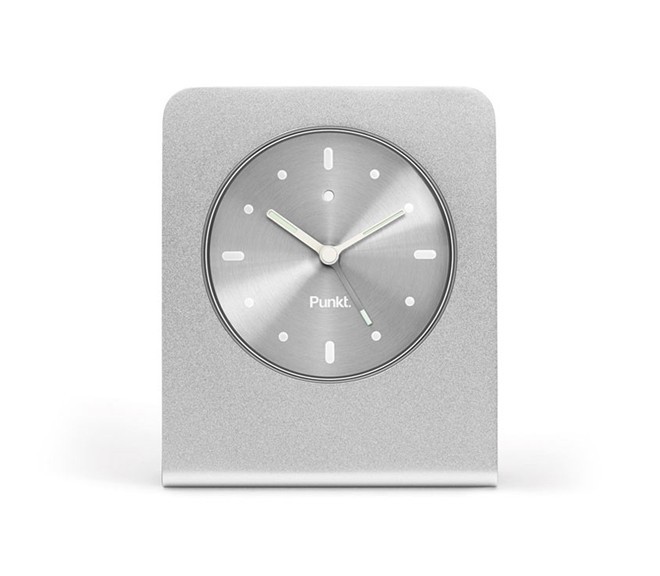 Reliable
How many times has your alarm clock failed you because of battery issues?
With the AC01, this is a thing of the past, thanks to the split power-sources design.
This is a design that incorporates separate batteries for the clock/alarm and the light-ring to ensure that the AC01 does not let you down.
Smart Alarm Control
For an easy alarm experience, the on-off switch is controlled by a conveniently located knurl on a rotating rung at the back.
The AC01 is a premium Desktop Alarm Clock that has all the desirable properties you would wish in an alarm clock. From functionality, ease of use to aesthetics, the AC01 will provide you with value for your money while ensuring you have a good rest at night.